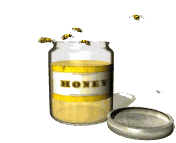 From the home page (www.bbbautism.com), click on the subject that interests you (i.e. About This Website, Beginner's Guide, Therapies, etc.). You will be taken to a submenu with a table of contents. From there, you can choose something more narrowly defined. For example, you may click on Therapies from the home page, and then choose Chelation on the submenu. From there, you will be taken to our page on Chelation.
You will notice certain recent changes to this website the most noticeable being that we are no longer utilizing frames. The reason for this is so that you can easily find information and save or bookmark that page. In other words, each page now has it's own URL. In order to find your way home again, simply click on this icon:

You will be taken back to the table of contents (home) page. For your convenience, we have provided more than one of those icons on longer pages.
Anytime you want to return to the previous page, use the "Back" button, to go forward, use the "Forward" key. We wanted this site to be easy to get around, we hope you find it so.

We have found a great search engine for our site. You will find it on the home page and all the sub-contents pages.
If you want to find a specific subject on a page (i.e. you are looking for the word "reinforcement" on our ABA/IBI page), simply choose the 'edit' icon on your browser. Then, choose the 'find' icon and type in what you are looking for. This works pretty much anywhere on the Internet, by the way.
You can email us at liz@deaknet.com. Every effort is made to attend to broken links, but if you come across any, kindly use that icon to inform us.
At the bottom of most of our pages, you will see a number and a date like this 23: July 20, 2002. This refers to the number of links and the last date that page's links were checked or updated. This way you can see how current the information is. At the bottom of our submenus, you may find something that looks like this: Total Links: 130, Counted and Checked July 23, 2002. This refers to the count of working links per date in this section of the website.
Please note that BBB Autism Support Network is not responsible for the information found on any of the websites we are linked to our books, agencies and articles mentioned throughout our entire website, clubs, workshops, message board and everything else bearing our name.

BBB Autism Online Support Network.
Copyright © 2001 [BBB Autism]. All rights reserved.
Revised: December 28, 2002 .

2: July 23, 2002